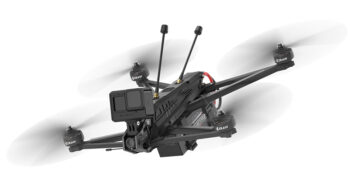 The Helion 10 O3 6S HD is a racer that stands out for its large format, allowing it to pack a huge battery and boast a battery life of around 30 minutes. It was developed by iFlight in collaboration with 2RAW.
In preamble ?
Long distance flights constitute an activity which is not authorized by French or European regulations. It is to be practiced, therefore, in the rare countries where it is possible. What's more, in France, don't forget that devices weighing more than 800 grams (this is the case with the Helion 10) are subject to registration on AlphaTango and the addition of a remote electronic reporting beacon. . That's it for the regulatory part.
The characteristics of the Helion 10?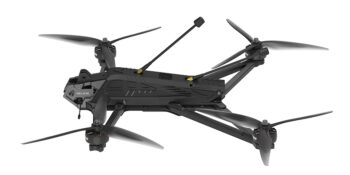 The Helion 10 O3 6S HD is based on a carbon structure that measures 41,8 cm diagonally from motor to motor for total dimensions of 32,4 x 26,4 x 6,3 cm. iFlight and 2RAW have designed a shell that protects the electronic part, easy to open to access the components of the device. The motors are Xing2 3110 brushless at 900KV for 10-inch Gemfan 1050 three-blade propellers.
Electronics?
To animate them, iFlight chose the Blitz F7 flight controller including an altimeter barometer, 6 UARTs, enough to seamlessly wire a DJI O3 Air Unit, a 32 MB Blackbox, a USB-C connector to access the settings. It is accompanied by a 4 in 1 55A ESC. It also comes with GPS – iFlight ensures that its antenna optimizes reception. The whole thing weighs 880 grams without the battery.
The radio and video part?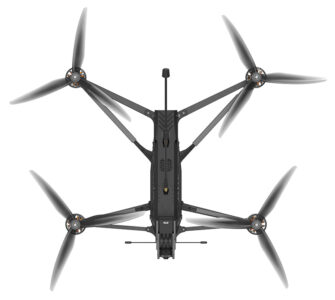 The Helion 10 O3 6S HD is pre-equipped with a DJI O3 Air Unit and its camera. With the DJI radio control 2, the Helion 10 O3 6S HD can therefore be used directly without the need for a radio receiver, via the O3. Which also allows you to benefit from 1080p video feedback and record 4K videos at up to 120 fps, in D-Log, with Rocksteady real-time stabilization or in post-production with Gyroflow.
Supplements?
You can choose a version of the device that comes with an ExpressLRS 2,4 GHz, 868 MHz radio receiver, or Crossfire Nano RX receiver from TBS, or a Crossfire Diversity Nano RX receiver from TBS. Since the device easily carries a GoPro type HD sports camera, iFlight offers GoPro 8 and GoPro 9/10/11 mounting brackets. No need to install the battery: the Helion 10 O3 6S HD has a USB-C power connector!
Food?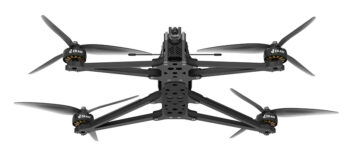 The Helion 10 O3 6S HD expects a 6S battery with an XT90 connector (yes, XT90, it's large format!). iFlight offers the option of delivering a 6S 5600 mAh LiPo or a 6S 8000 mAh Li-ion, the latter allowing you to approach 30 minutes of flight. The device, according to the manufacturer, is capable of reaching 140 km/h.
The price ?
The Helion 10 O3 6S HD is available from €1140 directly on the iFlight European store (taxes included).
A promotional video
Other pictures