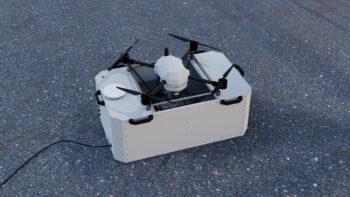 The French company Elistair, specializing in wired drone solutions, took advantage of the Milipol show to present Khronos. This is a wired dronebox system intended for ISR ("Intelligence, Surveillance, Reconnaissance", i.e. intelligence, surveillance and reconnaissance) missions.
It takes the principle of Elistair's wired solutions, but takes it further with a box capable of ensuring the takeoff and landing of the drone, its power supply and its video link with a cable.
The advantages of Khronos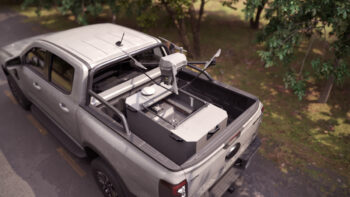 The use of a wired drone allows you to benefit from very long flight autonomy, for 24 hours according to Elistair (hence the name Chronos). Because the wired system makes it possible to do without radio links, Khronos makes it possible to operate the drone in difficult environments where GPS and radio signals are jammed, day and night.
The dronebox is, according to Elistair, transportable on a vehicle and usable on the move, taking advantage of a far-reaching aerial view. The manufacturer specifies that it can be deployed in less than 2 minutes, " easily with minimal human intervention, allowing operators on the move to have continuous aerial vision without having to invest heavily in training ". It is based on Elistair's T-Planner 2 software and an API to facilitate integration into existing systems.
source: Elisair
Photo credits : Elisair
A promotional video
Other pictures