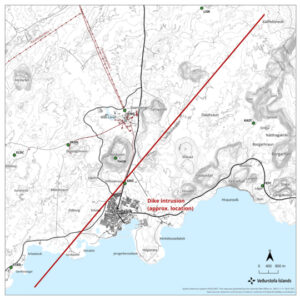 Want to capture beautiful images of an eruption in Iceland? Beware of flight bans…
As of Sunday, November 12, 2023, Icelandic authorities are awaiting a possible eruption on the Reykjanes Peninsula, southwest of Reykjavik. A clear increase in earthquakes has been noted since November 8, 2023 and faults have appeared around Grindavik, on the southern coast of the peninsula. The Icelandic Met Office judges " the probability of a volcanic eruption occurring in the near future […] considerable ».
He published a map showing the possible location of a magma rise based on a combination of satellite radar images, GPS measurements and geophysical modeling. This predictive model follows a line of approximately 15 km, marked in red on the map.
A large area prohibited to drones
The coast guard helicopter is on permanent alert to carry out missions to resolve doubts and evacuate residents. To protect the flights of this helicopter and others that would come in support, as well as drones for reconnaissance, surveillance and assistance in the evacuation of animals and people, the Iceland Transport Authority has established a large zone prohibited for drones , which follows the layout of the predictive model. This ban runs until November 29, 2023.
Professional operators wishing to obtain an exemption to fly in Iceland in prohibited areas or outside of regulatory possibilities can submit a file (document here) – the application costs around €270. It must be dated, motivated, provide proof of the pilot's experience, show the flight plan and the measures envisaged in the event of a problem, and the missions must be covered by insurance.
source: The Iceland Transport Authority