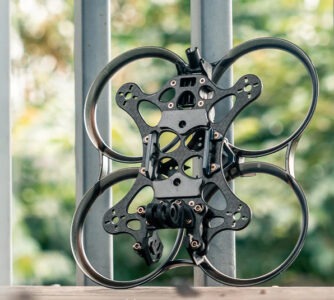 The Pavo 25 V2 is a cinewhoop, it is small, light, with propeller protections, and intended for filming with decent quality, either with the FPV camera or with an HD camera to be installed on board.
What's up ?
The Pavo 25 V2 benefits from the BetaFPV experience acquired with the Pavo 25 first version. It fixes points that have been reported by users. Among the improvements, this V2
is a little larger than the V1: it measures 11,2 cm diagonally from motor to motor (instead of 10,8 cm). Its flight controller is an F722 35A AIO V2, including a 4A 1-in-35 ESC. It controls 4 brushless motors 1505 to 4600KV (instead of 1404 to 4500KV), presented in Push mode (oriented downwards). The propellers are Gemfan D63-3 three-blade propellers.
The structure, according to BetaFPV, is capable of withstanding high pressures and the central aluminum Y support promises to dampen most vibrations.
The video return?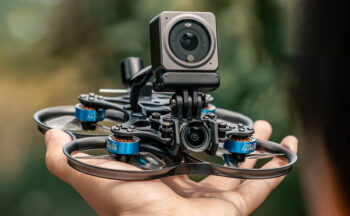 The frame is compatible with a 5,8 GHz analog video transmitter. Or a Caddx Vista. Or a digital RunCam Link compatible with DJI Digital FPV System. Or a digital Caddx Avatar compatible with Walksnail. Or a DJI O3 for stabilized 4K videos.
Autonomy
The power supply is to be provided in 4S with an XT30 connector and a 650 to 850 mAh battery for an autonomy of 6 to 8 minutes according to BetaFPV. The battery is attached to the top of the device, with a velcro strap to allow for different battery sizes and shapes. The XT30 connector on the drone side is fixed in the frame to avoid tearing out the solder joints on the flight controller.
Lights!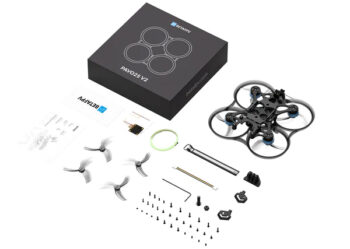 Like the Pavo 20, the Pavo 25 comes with a high brightness LED strip which allows it to be seen clearly in flight (for the FPV observer) and to be easily found in the event of a crash.
The price ?
The Pavo 25 V2 is priced from €179 directly on the BetaFPV website (without shipping, without taxes). It is also available with a 2,4 GHz ExpressLRS receiver or a Crossfire Nano module from TBS.
Other pictures