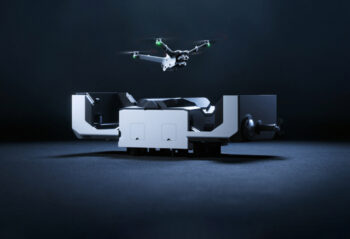 DJI Enterprise has revealed the DJI Dock 2. What is it? It is a station that allows the takeoff, landing and recharging of a drone so that it is ready to go on fully or partially automated missions.
It is intended for use with the new Matrice 3D or its thermal camera version Matrice 3DT, specially developed for the Dock 2 (hence the "D" on Matrice 3).
The characteristics of the DJI Dock 2?
The Dock 2 measures 57 x 58,3 x 46,5 cm closed, and 122,8 x 58,3 x 41,2 cm open (not including the anemometer which adds 14,5 cm), and weighs 34 kg. It is IP55, therefore resistant to dust and jets of water, whatever the angle: it can be used in the rain! DJI assures that it can be carried by two people. During its deployment, it must be calibrated to obtain its geographical position; for this it uses GNSS RTK equipment. It is designed to be powered continuously, but in the event of a power outage, the Dock 2 continues to operate autonomously for 5 hours with its built-in battery.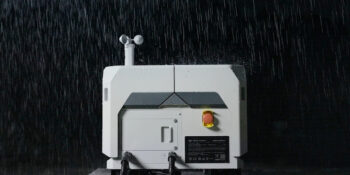 The 3D Matrix leverages a new generation of image recognition technology to identify landing zone signage on Dock 2. Which adopts a new sliding and centered slope design to improve the success rate of automated landings .
Charging is fast: Dock 2 takes the Matrice 3D battery from 20% to 90% charge in approximately 32 minutes. The station is equipped with a fisheye camera inside and outside, for operators to remotely monitor weather conditions, the environment on site and the takeoff and landing of the 3D Matrix.
With FlightHub 2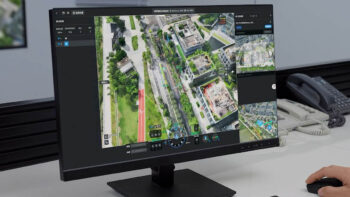 The station is powered by FlightHub2 software which allows surveillance and reconnaissance flights to be planned, or routes intended for 2D mapping and 3D photogrammetry missions.
Dock 2 integrates sensors such as rain gauges, anemometers and thermometers that can detect weather changes in real time.
By also taking into account online weather forecasts, FlightHub 2 can provide timely warnings or suspend scheduled flight missions to reduce in-flight risks due to weather.
With the help of the Cloud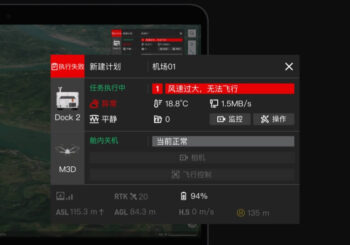 FlightHub 2 can generate a three-dimensional model based on flight data. This model can be annotated, measured and downloaded. Operators have the ability to visually modify routes in a FPV-style view, simulate a shot, and correct camera angles. Fligth Hub 2 relies on Cloud storage and data calculation.
Operators can trigger emergency missions quickly: they simply need to touch a target point on the map for the drone to take off and reach its destination autonomously, while still allowing the possibility of piloting manually.
During its missions, the Matrice 3D has an omnidirectional obstacle detection function, and can automatically bypass them. For long-distance flights, DJI offers a radio and video link via the 4G network. It is able to pair it with the original O3 video transmission to improve reliability.
The 3D and 3TD Matrix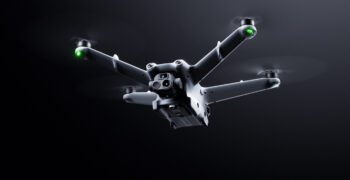 The Matrice 3D is equipped with a telephoto lens (1/2 inch CMOS, 12 megapixels, 161 mm) and a wide-angle camera with mechanical shutter (4/3 inch CMOS, 20 megapixels, 24 mm).
The Matrice 3TD is equipped with wide-angle (1/1.32 inch CMOS, 48 megapixels, 24 mm), telephoto (1/2 inch CMOS, 12 megapixels, 161 mm) and infrared (1280 x 1024 pixels, 40 mm, digital zoom) cameras. 28x).
The Matrice 3D and 3TD are equipped with two RTK antennas to be able to take off in 45 seconds. Their dimensions? 33,5 x 39,8 x 15,3 cm (excluding propellers), for a weight of 1,61 kilo. The autonomy promised by DJI is 50 minutes!
The costs ?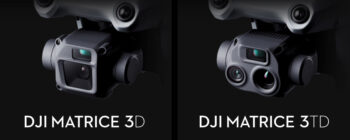 They are given in yuan since the Dock 2 and the Matrice 3D and 3TD are currently only available for the Chinese market. The DJI Dock 2 and Matrice 3D set starts at ¥69999 (€9000). The DJI Dock 2 and Matrice 3TD combo starts at ¥77999 (€10000). The page dedicated to Dock 2, Matrice 3D and Matrice 3TD can be found here on the DJI website (you have to switch to Chinese version to access it).
When in Europe?
Marketing in Europe is opposed by regulatory aspects: uses in automatic modes, possible European classes to fit into the scenarios of the Specific category, the use of 4G, etc. The manufacturer has not yet mentioned the availability of its Dock 2, Matrice 3D and Matrice 3TD products outside of China.
Edit: according to Flying Eye, the worldwide release of Dock 2, Matrice 3D and Matrice 3TD is planned for the first quarter of 1!
A promotional video
Other pictures