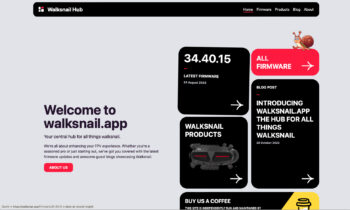 This new portal is dedicated to the cause of Walksnail, the video link protocol designed by the company Caddx.
What is this ?
On this site, you can find the latest versions of firmware, a library of previous firmware, a list of products compatible with Walksnail, and a blog for communication. Interesting and very practical if you are equipped with a Walksnail or if you intend to do so.
Here's what the developers say: " walksnail.app is not just a website; it's a testament to our dedication to the FPV community. It is a platform created by enthusiasts, for enthusiasts. Our commitment is to provide you with easy access to firmware releases, Walksnail capabilities overviews, and tools to help you get the most out of your Walksnail products. ».
Caddx?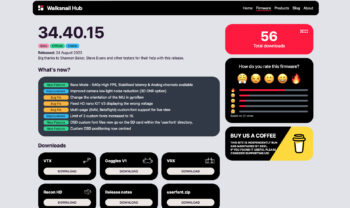 What is surprising is that this site is not an initiative of Caddx, but of D3VL. This name may not mean anything to you: they are the developers behind the FCC B3yond hack for DJI hardware, they are also the ones who stored the different evolutions of the Caddx firmware for the Avatar and Walksnail products.
The firmware download page also indicates which file to use for glasses, transmitters and receivers depending on their type, and it's very practical!
What is the link between D3VL and Caddx?
There is none, says D3VL! " After initially creating our first firmware website at avatar-firmware.d3vl.com, we hoped that the Walksnail team would see the value it was bringing to their customers and take steps to release their own official version. However, after over a year now, they have done no such thing and continue to release firmware on obscure back channels, where it is not easily accessible unless you know exactly where to find it ».
After that ?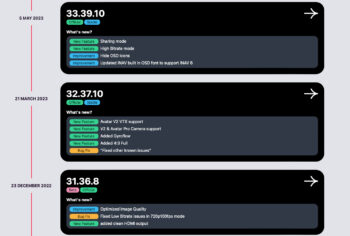 D3VL intends to continue the development of the Walksnail Hub: " We have some exciting plans for walksnail.app. In the near future, we aim to add more tools and features to this website, all focused on improving your Walksnail experience.
Tutorials: Tutorials to help you get the most out of your Walksnail equipment.
Special Offers: Exclusive offers and discounts on Walksnail products that we find on the Internet.
Dedicated tools: tools that will make your FPV and post-flight experience smoother and more enjoyable ».
The Walksnail Hub is accessible online on walksnail.app. If the initiative appeals to you, you can thank the D3VL team by buying them a virtual coffee (with real money), here.