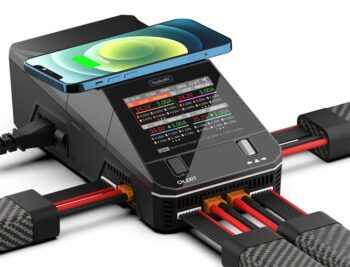 Are you looking for a charger for your fleet of racers, big and small? ToolkitRC offers a new model perfect for the home and in the field. The Q6AC charges 4 batteries simultaneously with 4 independent charging ports.
It contains its own power supply
Simply plug it into a 220 V (or 110 V) socket to obtain 400 W. It can also be powered with a large battery via an XT90 socket to obtain… 1000 W! This option also and above all allows you to charge batteries independently, without the need for a power outlet. Practical for chaining flights in the field.
Cooling of the device is provided by two fans. A 3,5-inch color screen allows you to monitor the charging of each port and make adjustments. The Q6AC is compatible with the particularities of LiPo, LiHV, LiFe, Li-ion, LTO, NiMH and Pb. It ensures charging, but also discharging and storage.
The little extras?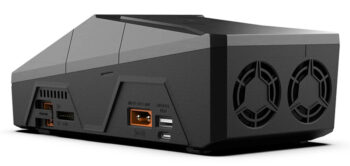 Each charging port has its own balancing socket up to 6S and, this is very practical, two connectors: an XT60 and an XT30! The charger also offers a classic 18 W USB port, a 65 W USB-C and charges a smartphone wirelessly (for models that have this function).
The price ?
The ToolkitRC Q6AC is priced at €190 on Banggood (taxes included), for pre-order with availability scheduled for November 20, 2023.
Other pictures