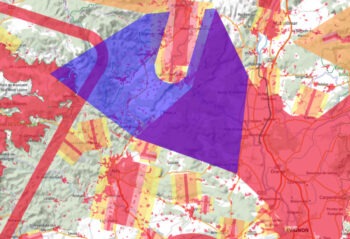 During the second half of July 2023, the Casex ATC 23-2 Valdahon exercise will take place. These are military maneuvers. regional[es] using a large number of French and foreign combat aircraft with simulated firing passes. Missions carried out at very low, low and medium altitude require[d] the implementation of temporary restricted zones in the Orange region (84) ". In this context, two Temporary Restricted Areas (ZRT) have been created to protect aircraft evolutions, as indicated in SUP AIP 206/23. One of the two concerns drone flights.
The influence of the ZRT?
The ZRT Casex Orange Alpha covers a large part of the Rhône valley between Montélimar and Orange. When active, drone flights are prohibited. To put it simply, the ZRT can be activated from Monday November 13 to Friday November 24, 2023 (except the weekend of November 18 and 19), Mondays and Wednesdays from 08:00 a.m. to 18:00 p.m. (07:00 a.m. to 17:00 p.m. UTC), Tuesdays and Thursdays from 08:00 a.m. to 23:00 p.m. (07:00 to 22:00 UTC) and Fridays from 08:00 to 12:00 (07:00 to 11:00 UTC). Because actual activation times are not readily available to the general public, refrain from flying in the area when it is active.
source: SIA