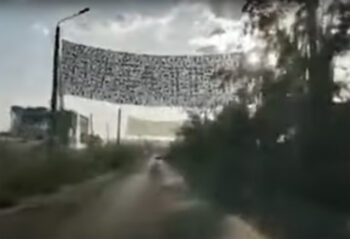 A video posted on YouTube shows footage filmed from a Russian vehicle. We see camouflage-type nets stretched above a road. They are presented as a system intended to intercept attacks carried out with drones. The location is described as being located in the Bakhmut region of Ukraine, in an area under Russian control. The method seems very inconsistent – ​​but when effective tools are lacking, it is system D which can prevail.
True or fake?
Were these camouflage nets strung across the roads really really there to intercept drone attacks? Or are they intended for another use? Asked by Newsweek, Guy McCardle, editor-in-chief of the Special Operations Forces Report (SOFREP), stated that " Nets can be an efficient and effective way to stop small drones and prevent them from reaching their targets. If positioned correctly and the drone is small enough, these nets will trap the drone, rendering it harmless. The problem is that some drones are smart enough to avoid such obstacles and FPV drones are guided by a human who controls their drone to avoid obstacles ».
Besides ...
Another video was published, filmed on the pro-Ukrainian side by the Squadron group specializing in attacks with FPV racers and their publication on video on social networks. It shows an FPV racer hitting a Russian military vehicle while easily avoiding one of these nets.
Note: the "information" disseminated by the various media, on the Ukrainian side as well as on the Russian side, official and unofficial, should be considered with hindsight and discernment since they are most often tools intended for propaganda.