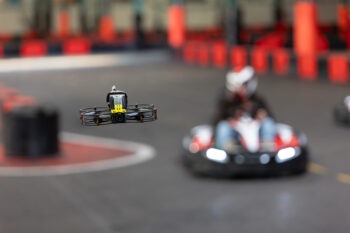 Gautier Veltri very kindly invited me to the event Drones VS Kart, second edition. It took place in the E-Kart'In Park near Saint-Etienne in a super nice atmosphere.
The principle ?
It is simple and effective: I drive a kart like a wildling and I am followed by very nervous cinewhoops, then I drive a cinewhoop like a wildling and I follow very nervous karts...
And does it work? Yes, it works particularly well! We get into the game very quickly. The first laps, in a kart and a drone, are a little hesitant while you get the feel of the circuit. And then we accelerate, until we find our limits! Kart drivers risk nothing: their helmet protects them from whoops.
Very interesting workshops!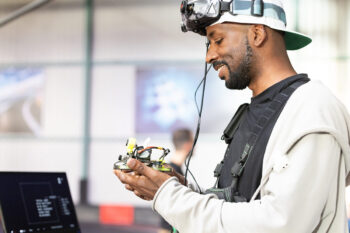 Pablo Sotes came to talk about his use of the Inspire 3 at Full Motion, with Benjamin Lavayssiere. Pablo shared his hacked DJI headset tip to succeed in his missions – but I won't tell you more, watch for his next intervention to find out everything!
Florian Wolf, Wolf Drone Shop, came to talk about the design of his machines. He showed the Sphinx, a cinewhoop that really catches my eye. He also told me about his short-term plans, he will reveal them very soon. These workshops were simply fascinating!
At random stands and passageways, we could come across Felix (aka AirFlex), Rémi Remco, Najib (aka NK0), and many others… There were prizes to be won, a bar and food. Congratulations to Gautier and his entire team Drones, the organization was great! What did I really like? It was possible to fly a lot and for a long time, it was possible to ride a lot and for a long time!
Photo credits: Art Company / Sofyann Pages
NK0's video
The Airflex video
The video by Sofyann Pages (Art Company)
Other photos by Art Company / Sofyann Pages
Other photos by NK0