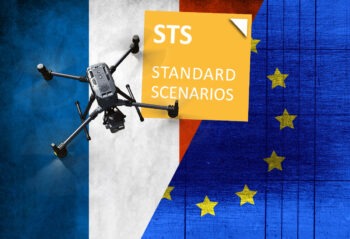 On January 1, 2024, the European scenarios STS-01 and STS-02 in the Specific category will be operational. They allow you to carry out missions that are not possible in the Open category. To have access to it, you must have taken and passed the exam at the center to obtain the Specific Category Theoretical Aptitude Certificate (CATS). What Drony's online training offers is to help you acquire the skills to pass this exam.
What there is to know ?
The exam in question will only be open from January 1, 2024, perhaps a little later until the centers can host the tests. In addition to the theoretical exam, you must complete practical training with devices that meet the requirements of the scenarios, that is to say class C5 for STS-01 and class C6 for STS-02. We will therefore have to wait for devices (apart from already existing flying wings, see here) of classes C5 and C6 are placed on the market.
So, what is this training for?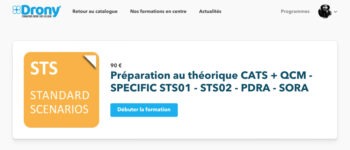 It allows you to acquire the knowledge necessary to practice in the Specific category under European scenarios, and for missions outside scenarios subject to having carried out complete risk studies such as SORA or predetermined such as PDRA. Is it still a little early? Maybe, but January 1, 2024 is very close, and the sooner you train the better your understanding will be of what the Specific category in European scenarios allows (and does not allow), as well as the material requirements...
The Preparation for theoretical CATS + MCQ – SPECIFIC STS01 – STS02 – PDRA – SORA » is offered online by Drony, for €90. It includes the training curriculum and multiple choice questions based on 140 questions for training.