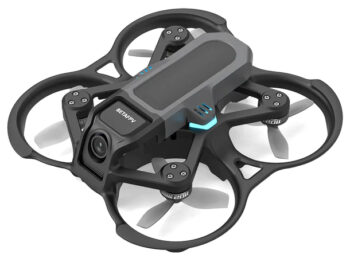 The Aquila16 is a brushless nano racer which complements the Cetus range, intended for beginner pilots. It uses the principle of the iFlight Defender range with their proprietary battery. Indeed, the Aquila 16 is based on a 1S LiHV battery in a device-specific case – even if the connector is a BT2.0, also proprietary to the brand but quite widespread.
A little air of Avata
The Aquila 16 looks a bit like the DJI Avata, the resemblance is undoubtedly intended. Moreover, the Aquila 16 has a function present on the Avata and generally absent from racers: it is capable of maintaining its flight altitude on its own with the help of an altimeter barometer. Enough to make it easier for beginners to get started by avoiding yo-yo flights due to lack of throttle control. Please note: this is an altitude hold, not an obstacle avoidance tool that would control flight height.
Characteristics ?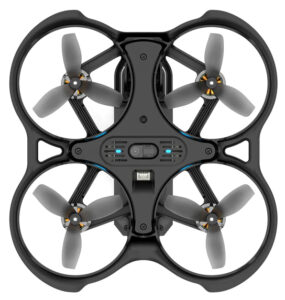 The Aquila 16 is based on a PA12 plastic structure measuring 8,6 cm diagonally from motor to motor, on 1102 to 18000KV brushless motors (the same as those of the Cetus X) with 45 mm three-blade propellers. The flight controller is a new model, the Aquila16 V1.0, including a 4-in-1 ESC.
The video part is in 5,8 GHz analog, based on a C02 camera and an Aquila transmitter capable of transmitting at 25 mW (the maximum authorized in France) and up to 350 mW. The radio part is provided by an ExpressLRS 2,4 GHz SPI receiver.
The weight, without battery, is 47,1 grams. With the 1100 mAh battery, it weighs 72,5 grams for 8 minutes of autonomy. BetaFPV offers another battery, 650 mAh, with which it increases to 69,1 grams for 5 minutes of autonomy.
Software side?
Radio pairing is based on the ExpressLRS function with 3 rapid battery ignitions. The flight controller allows 3 flight modes: N(ormal), S(port) and M(anual).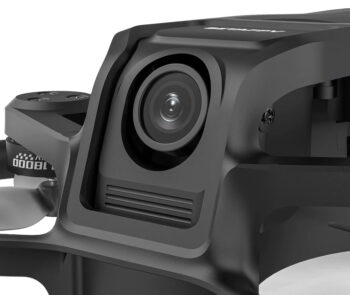 Plus a Turtle Mode to flip the device if it ends up on its back. It also offers 3 speeds: Slow, Mid and Fast, from 1,25 to 5 m/s in N mode.
Compatibility?
The Aquila 16 is compatible with all radio controls operating with the 2,4 GHz ExpressLRS protocol, and all 5,8 GHz analog video reception devices. BetaFPV offers a complete kit including a LiteRadio 2 SE ELRS and a VR03 headset, which provides everything you need to take off and fly underwater.
The price ?
The Aquila 16 is priced at €133 directly on the BetaFPV website (excluding shipping, excluding taxes). It is also available as an Aquila 16 RTF kit for €237 at BetaFPV (excluding shipping, excluding taxes) or €290 at studioSPORT (taxes included).
Other pictures