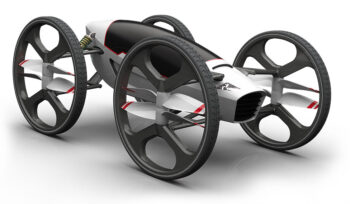 If you have been a Helicromicro regular for several years, you may remember the Xerall X-Tankcopter. It's a toy capable of rolling like a tank and flying like a multirotor. He had benefited from the experience of the B Go Beyond project then B-Unstoppable. The designer, Witold Mielniczek, is following his dreams! He did not allow himself to be overtaken by competing projects, such as Multi-Modal Mobility Robot (M4) from Caltech University or Hybrid UAV-UGV for Efficient Relocation of Vessels (Huuver). He set up his startup, which has 4 people, in the incubator of the Aeropolis science and technology park in Jasionka, Poland.
The Beccarii project
On the same principle as its other hybrid devices, the Beccarii is a vehicle equipped with wheels to move on the ground and propellers to take off. Most of the time it drives, including on rough terrain. But it is capable of taking off and flying like a multirotor, if necessary, to pass obstacles.
Characteristics ?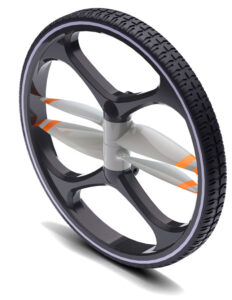 The Beccarii is expected to measure 3,3 x 2,2 x 0,4 meters for a weight of 250 to 280 kg empty, and up to 370 kg with its load – one person and equipment. The engine is electric for a total of 200 kW, with 8 counter-rotating propellers from 42 to 46 inches, and with power provided by Li-Ion batteries. The range is 50 km in flight and 400 km on the ground, with a speed of 100 km/h.
For what purpose?
The Beccarii is designed to reach places that are difficult to access, so it is intended for rescue, surveillance and military applications. To finance the project, Witold Mielniczek is counting on toy sales Xerall, on industrial achievements, and on cryptocurrency campaigns, the BTEC. Prototypes at 1:10 are already operational and are used to test the possibilities offered by the Beccarii. There official project page can be found here.
A video of the 1:10 prototype