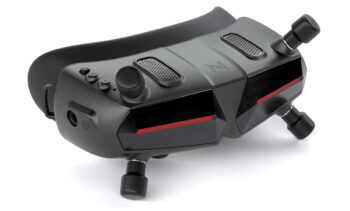 The manufacturer Caddx continues to develop a range of products Avatar around the Walksnail video protocol, with Goggles
Their weight?
290 grams – they do not contain the battery. The power supply expects 7 to 26V (2S to 6S). The antennas are delivered, but they can be replaced by more efficient models, in LHCP. A microSD memory card slot allows you to record video return DVRs.
Adaptation to vision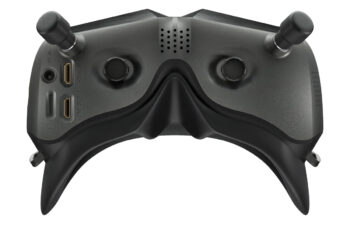 They allow adjustment of the interpupillary space between 64 and 74 mm, and accommodate the eyesight of most pilots (without the need to wear glasses) with +2 to -6 diopters. The lenses are removable to allow greater correction suitable for astigmatism, myopia and for those who wish to filter blue light. A sensor turns off the screen automatically when the face moves away.
Inputs and outputs
This is what most FPV goggles and headsets lack: an HDMI in connector and an HDMI out connector! In fact, the Goggles And because there are still drones with old generation video feedback, Caddx has made sure to offer an AV IN jack for analog sources.
The strong points ?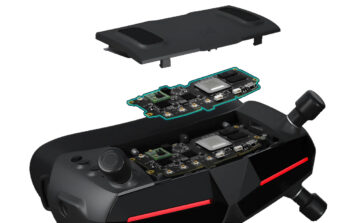 There are fun features like the colored LEDs on the front panel, and other more relevant ones, such as the possibility of removing the front panel and changing it, including its two lower antennas. 3D creators and prop makers will be able to imagine alternative facades, especially since the 3D files will be available for download. Caddx will also offer another foam design to accommodate all face types.
That's not all: it is possible to remove the top plate to access the reception module, which can also be replaced. Because Caddx ensures that it works on " next-generation receiving module, capable of achieving a breakthrough in flight distance, which is expected to reach 20 kilometers ". Ohhh, that's very interesting!
In development ?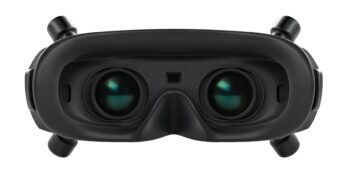 In the short term, the Goggles X can be adjusted and updated via a smartphone application, via Bluetooth and wifi. Caddx also promises a Map mode to locate the drone and mirroring of video feedback. The Goggles X will also be able to control devices with head movements since they integrate a gyroscope.
The price ?
The Goggles X from Caddx are available for pre-order at €569, for example at studioSPORT. I do not have precise information on actual availability, probably sometime in November 2023. What are these glasses worth? On paper, the Walksnail Avatar HD Goggles X are very, very attractive!
Edit: they are in testing at CultureFPV, here !
Other pictures