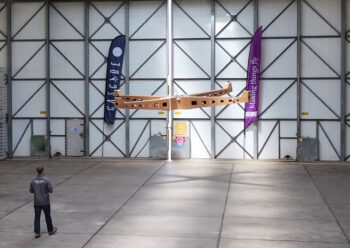 The University of Manchester launched the project Giant Foamboard Aircraft in 2022, a large-format foam and cardboard plane. A bit in the style of those of Flitetest in the United States. This project inspired a team of university students who decided to embark on the process of creating a large-format quadcopter.
The information is only now being released, but the first flight of the Giant Foamboard Quadcopter (GFQ) took place successfully on July 5, 2023 in a hangar at the Snowdonia Aerospace Center site in Wales.
Foam and cardboard?
The structure of the device is X-shaped, made of laser-cut 5mm thick Depron foam sheets, assembled with hot melt glue and covered with paper. The core that contains the electronics is made of foam. The giant drone is powered by 4 motors and batteries for a total of 50V or 12S.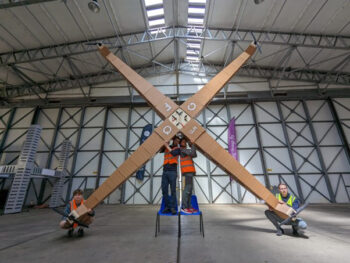 The machine measures 6,4 meters on each side and weighs 24,5 kilos. The foam structure represents 25% of the total weight, the electronics and motors 15%, the cables 19%, and the batteries 19%.
Minimalism
According to Dan Koning, a research engineer at the University of Manchester who led the design and construction of the vehicle: " Cardboard is an interesting material to work with when used in the right way, we can create complex aerospace structures where each component is designed to be as strong as necessary but no more – because there is no place for excessive engineering […] Thanks to this discipline in design and after extensive research, we can confidently say that we have built the largest quadcopter drone in the world ».
source: University of Manchester