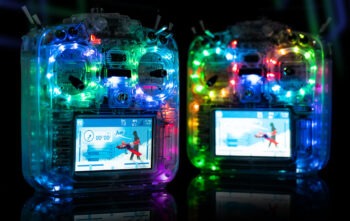 The radio control specialist RadioMaster is marketing a special version of its TX16S MkII, "inspired by MCK". Understand inspired by Minchan Kim, the extraterrestrial FPV racing champion, who won the World Drone Racing Championship 2023 in Korea.
Colors!
The radio control is similar to the classic model, with an integrated 2,4 GHz ExpressLRS module, but its case is transparent. Even the joystick gimbals are transparent! This case is decorated with an RGB LED system which allows combinations of 5 different colors, with a button on the back to choose the RGB effect. If you like Christmas tree garlands, you will love them.
The price ?
The TX16S MKII Radio Transparent Version is priced at $250 directly on the RadioMaster website, in FCC or LBT versions (excluding shipping, excluding taxes). It is available in France at studioSPORT for 340 € (taxes included).
A promotional video
Other pictures