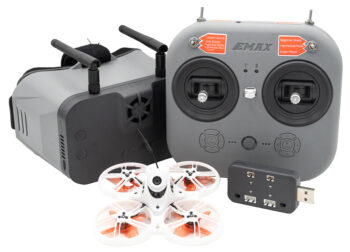 La Tinyhawk range from Emax is enriched with 4 new models, the Tinyhawk III Plus and Tinyhawk III Plus HD, and the Tinyhawk III Plus Freestyle and Tinyhawk III Plus Freestyle HD. Unfortunately the technical data sheets published by Emax are very incomplete and do not describe the characteristics of the devices. They are powered at 1S, with a PST PH2.0 socket.
What you must remember ?
Emax ensures that the Tinyhawk III Plus are more resistant and offer a better video link, both analog and digital. The III Plus versions offer analog 5,8 GHz video feedback, but and this is new for the III Plus models, the HD versions are equipped with HDZero video modules from Divimath. The radio link is ExpressLRS 2,4 GHz, compatible with ExpressLRS radio controls. Or with the new radio from Emax, the E8 with integrated ELRS.
An HDZero headset!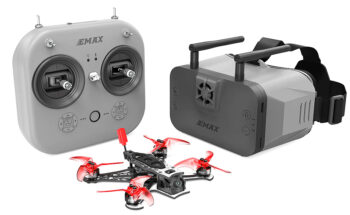 Emax also offers, for HD models, the Transporter 2 HD headset. It is based on a detachable screen that you can install on the remote control, or place inside the helmet for a more immersive experience.
The costs ?
The Tinyhawk III Plus BnF is offered at $159 in analog version directly on the Emax USA website (excluding shipping, excluding taxes), and at $240 in HDZero version. The Tinyhawk III Plus Freestyle BnF is priced at $169 in the analog version and at $250 in the HDZero version. The devices are also offered in packs including the E8 radio control and the Transporter 2 helmet, starting at $280 for the streamlined version and $290 for the Freestyle version. These are pre-orders, the devices are planned to be available at the end of October 2023.
They are also offered in France by Drone-FPV-Racer, from €185 (taxes included)!
Other photos of the helmet and the radio control
More photos of the Tinyhawk III Plus
More photos of the Tinyhawk III Plus Freestyle