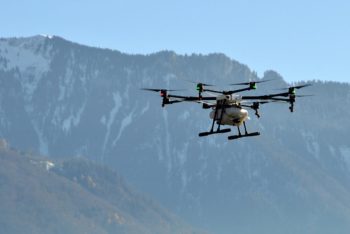 The European scenario STS-01, in the Specific category, is interesting for uses linked to agriculture. But it requires a drone with a class C5 indication, one of the requirements of which is a weight of less than 25 kilos. How to operate under European regulations without this class indication? The solution is the PDRA S-01.
What is it about ?
To put it simply, when it is not possible to fly with the European STS scenarios, you must go through a SORA risk study. It is a demanding procedure that requires spending a lot of time. The alternative is a PDRA, which can be translated as " a preformatted risk analysis ". In other words, it's a simplified SORA. The PDRA S-01 covers operations similar to those of the STS-01 scenario, but without requiring a C5 class drone. This PDRA is described by the AMC relating to Article 11 of Regulation 2019/947. Amendment 3 to this AMC alleviates certain requirements of PDRA S-01. Some will satisfy operators operating for agriculture – one of them being the abandonment of the weight limitation (MTOM, to be more precise) at 25 kilos!
the weight limitation of 25 kg has been removed, drones operating in PDRA S-01 can therefore be heavier! But they must not exceed dimensions of 3 meters.
in the case of spraying pesticides or other chemical products, a note reminding that compliance with Directive 2009/128/EC is required has been added (dated 2009, it establishes " a use

pesticides compatible with sustainable development ").
a note specifying that the operating authorization may define the locations where
the operation can be carried out in a generic way, provided that the operator has clear procedures on the assessment of compliance with the PDRA.
in the table defining the ground risk values, very low height operations were not considered. An additional value applicable to operations at a height of up to 10 m is added.
in the case of operations in controlled airspace, the need to develop procedures to communicate with the manager of this space has been added.
the addition of the possibility of training other than the STS certificate for the remote pilot, acceptable by the competent national authority.
the device can be powered by a source of energy other than electricity.
the possibility of not using UAS compliant with the enhanced containment requirement in the case where the operator only plans to conduct operations in areas where the adjacent volume presents a low risk.
The CMA amendment outlines many other changes, please read carefully if you are concerned with the subject.
source: ED Decision 2023/012/R