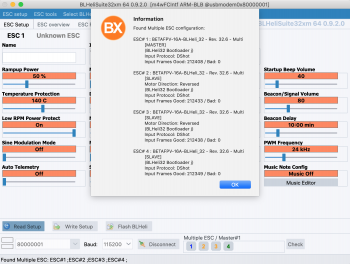 You already know the method of flashing the ESCs of a nano racer at 48 kHz to gain autonomy (see here et leaves). It is intended for ESCs running under BLheli_S firmware. But BetaFPV's Beta4X 1-in-95 ESC (see the test here) is a BLheli32. The method for switching to a frequency of 48 khz is not the same as with BLheli_S, it is… even easier to perform! You must first download the BLheliSuite32 tool (here), it is offered for Windows PC, Mac OS X and Linux. Launch the app. The good reflex is to remove the propellers or to secure the device so that it does not escape in the event of malfunction of the ESCs – disconnecting the battery in an emergency can be very complicated if the motors are running at full speed! Connect the Beta95X to your computer with the microUSB-USB cable, and power with a sufficiently charged battery.
How to proceed ?

In the drop-down menu Port:, choose the one that corresponds to the Beta95X – it is the same port used by Betaflight Configurator-, then click on Connect. Click on Read Setup. In the summary window, check that the 4 ESCs respond well. The box we are interested in is PWM Frequency. The value is 24 kHz by default. Drag the slider to push up to 48 kHz. To validate the change, click on Write Setup. Writing is very fast. Unplug everything, attach the propellers, and take off!
Gain ?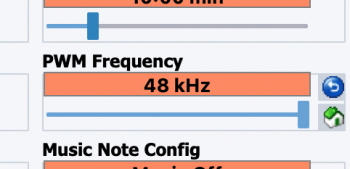 With a 4S 450 mAh battery from Tattu, indoors with a calm flight, I get 3 minutes 40 seconds of battery life with the factory Beta95X. Once the 48 kHz modification has been made, this autonomy increases to… 5 minutes and 30 seconds, i.e. a gain of approximately 30%. Not bad for a hack that only takes a few seconds! I noticed a slightly more flexible behavior, without any parasitic vibration.
What happiness?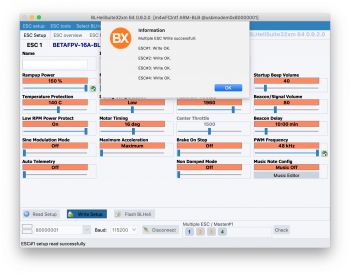 In general, all the improvements have a collateral effect… Switching to 48 kHz can introduce a reduction in power at full throttle and parasitic variations in engine speed. For my part, I did not experience either of these problems, the Beta95X retained its original power. If you notice a problem with the power, know that you can return to 24 kHz at any time. You can also try to find the right compromise by a method of trial and error. The goal in this case is to find the intermediate value between 24 and 48 kHz which does not introduce a loss of power but which nevertheless allows to gain autonomy.
Thanks to groove4life for motivating me to give it a try!