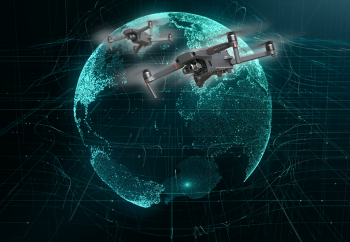 Camera drones store flight data in real time. This is the case for almost all devices. This information can be consulted in the smartphone interface to obtain maps with flight routes. Some applications have fun keeping track of your "records": the longest, highest, fastest flights. Nice, but you can't do anything very interesting with this data. To go further, it is necessary to recover the flight logs and present them in a usable form. I had already introduced you to the online tool PhantomHelp (see here), but it was limited to use with flights performed with DJI aircraft. There is more interesting and more complete!
The tool of the moment?

It's Airdata! It was created by a California company, Airdata UAV. The principle is simple: Airdata is a database of your flights, stored online on Airdata UAV servers. You choose to send your data from the software you use for your flights An alternative is to use the application for iOS and Android smartphones, Airdata UAV, which can be downloaded free of charge from AppStore et Google Play. It takes care of retrieving flight logs and synchronizing them with the Airdata UAV servers.
Compatibility ?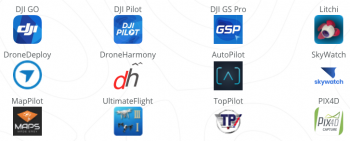 Airdata is able to use data from DJI Mavic 2, Pro, Air, Mini, Inspire 1 and 2, Phantom 3 and 4, Spark, Parrot Bebop 2, Disco, Anafi, Yuneec H520, etc. Note that you are not limited to using flight logs produced by official software such as DJI GO 4, DJI Fly, data export also supports third-party tools such as Litchi, DroneDeploy, DroneHarmony, Pix4D or online journals like those of Parrot.
Disclaimer
Once your flight data is sent off your smartphone, you know you're losing control. Despite all the legal tools in place in France and Europe, you cannot be certain of what is done with your information by the company hosting it and by its partners or service providers, in particular for mass storage. Your data is also at the mercy of a bug, a hack. As you will have understood, even if Airdata UAV is trustworthy, computer security has its limits. Only entrust data that does not pose any problem if it is used and disseminated without your knowledge. The warnings being made, it's up to you!
Connection on Airdata

The first step is to create an account on Airdata. It's free, and it's to do here. Really free? Yes. Airdata's basic service, called HD Free, doesn't cost a penny. It is clearly intended to make you decide to opt for a paid version, on subscription. For example, you have access to the last 100 flights only with HD Free. Older ones are stored, but not accessible. Once the account is created, login here. Click on MyFlights. To access the settings, click on your icon.
The settings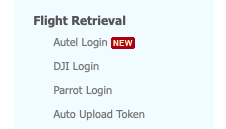 The important points are the DJI Login and Parrot Login lines, to be filled in according to the brand of your device. They allow Airdata to access data stored on DJI and Parrot servers. Start data synchronization – this is a step that can take a bit of time depending on how many flights you have taken. Also go to Preferences to choose the units.
Check flights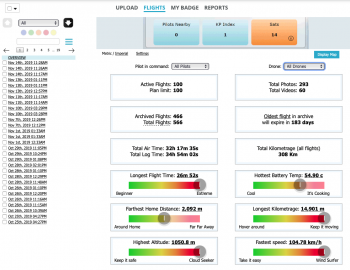 Click My Logs at the top of the screen. The page displays a summary of the number of stored flights, those to which you have access and "records". Move on to the interesting stuff. On the left are summarized all flights, by date and time. Click on any of them to find out more. The main window shows the flight map, surrounded by its characteristics, this is the General screen. Just below the map are links to files. This is where you can download flight coordinates in .kml and .gpx formats. We will see a little later in this post what it is possible to do with it.
More information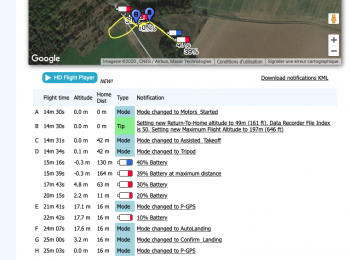 If you've seen strange behavior during a flight, sometimes flight log data can help you better understand what happened. In the General tab, Notifications, you get a list of events that occurred during the flight. For example battery status, high wind warnings, flight mode changes. Important: if you look under the map, you get a listing of these events in chronological order, with more information than on the map.
The HD Flight Player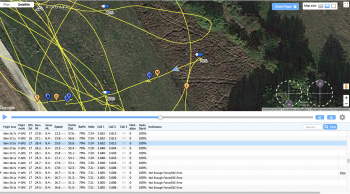 Click on HD Flight Player: you can replay the entire flight with an indication of all parameters, including altimeter barometer data, sonar data, speed, voltage of each battery cell, speed, etc. . There are sometimes contradictory data between the various sensors, in particular the altimetric barometer and the sonar. This presentation of flights is adapted to the search for causes of crashes or erratic behavior.
Additional values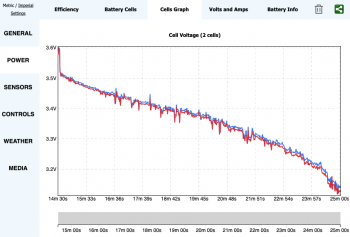 In the Power, Cells Graph tab, you can monitor the status of each cell of the battery used for the flight, just to check if one of them is not too low in voltage. The data includes, where present, the battery serial number and its behavior with temperature curves. The Sensors tab allows you to check the behavior of the radio signal during the flight, and that of the GPS. The Rudder tab provides information about command latency.
Weather report !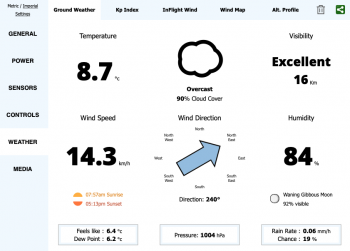 The Weather tab summarizes the weather data at the time of the flight – which includes data from weather stations, not those measured on board the aircraft. Convenient to get an idea of ​​the weather conditions during a flight, even several months later. The Kp tab gives the value of solar activity. A very high index can theoretically influence drone sensors – but this remains to be proven. Wind information is not available in the free version of Airmap.
The price ?

You can use the free version, which gives access to the main functions. To have access to the last 400 flights and reports on wind conditions, you must subscribe to a subscription of $3 per month. There are other subscriptions to take advantage of other features, but you probably won't need them. Too bad, the real-time broadcast on social networks of a flight, a very interesting function, is not included in the basic subscriptions.
Use .kml files?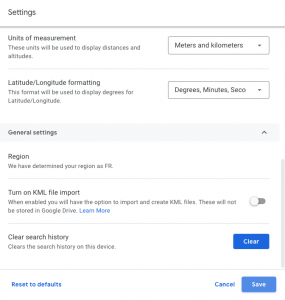 What to do with .kml files that you can export from Airdata main map? One method is to feed them into the Google Earth service for a 3D visualization of your flight. Point your web browser to https://earth.google.com/web. Preferably use Chrome, knowing that some browsers like Safari are not compatible with the Google Earth service. Click on the icon with 3 horizontal bars at the top left, then on Settings. Go down to the line "Turn on KML file import" and check so that the switch turns blue. Click Save. You can now import .kml files into Google Earth web version.
Loading the plot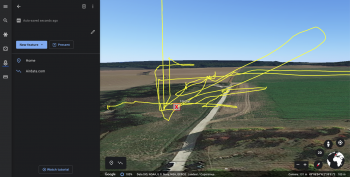 Click on the Projects icon (the one on the left stylizing a map and a pointer), click on Open, then Import KML file from computer. Point to a .kml file generated by Airdata and click Open. Google Earth allows you to choose the camera's point of view to view the flight path in 3D. You can use mouse and keyboard key combinations to position the camera as desired.
Use .gpx files?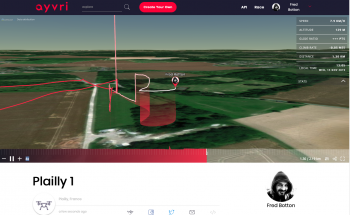 Point your browser to Ayvri, an online tool to view .gpx tracks. Click on Sign In and create an account or, easier, log in via your Google or Facebook account. Click on Create Your Own, then drag and drop the .gpx file exported by Airdata. Click on What was the activity and type dro, validate Drone and click on Continue. Click on Give you Scene a Title, and give this flight a name, then click on Create Scene. An animation that reproduces the flight is launched automatically. Zoom in to see it better. You can change the position of the camera at any time, and move forward or backward in the course of the flight. Click on Stats to get real-time statistics. You can even share the flight on social networks…