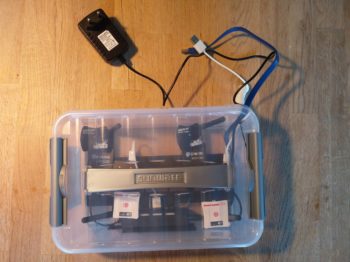 Whether on an FPV racing event or during a fun training session with friends, it is very pleasant to be able to view the video feedback of each pilot simultaneously and in real time, and to watch them again afterwards. The system described by Philip Seidel on his blog is very interesting, but we dream of a solution that is a little less like a gasworks. The realization of Erik Borra eliminates the need for a video recorder (DVR), an image capture tool, a video stream concentrator. This makes it possible to do without a KKMoon box for example, operational but which does not support weak video links and gets tripped up in simultaneous connections in PAL and NTSC.
Equipment ?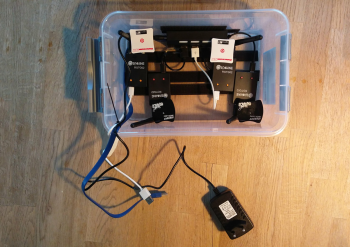 The solution implemented by Erik Borra is based on 5,8 GHz USB receivers Eachine's ROTG02. The latency they suffer from isn't a concern for this edit, which doesn't need real-time feedback. Too bad, however, that the image they provide is very compressed. They capture the video streams from the racers which they transmit to a computer via a USB hub. It is obviously not as simple as that in practice, since it is imperative to have a Mac (no PC under Windows for driver issues which prohibit more than 2 ROTG02 simultaneously), a powered USB hub, a cable of long "active" USB extension to put distance between the box and the computer without degrading the signal, plus small equipment such as antennas, connectors, etc. Everything can be powered with a big Lipo to be autonomous.
On the software side?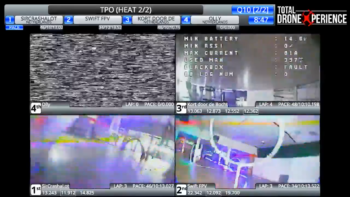 You need the tool OBS Studio to manage streaming from different sources, and possibly LiveTime FPV to add support for a stopwatch, like the ImmersionRC LapRF or Delta 5 Race Timer offered in Open Source. The price of this assembly, excluding computer, is around 100 €. It's still a small gas factory, but the progress is clear in the face of other solutions to produce returns of acceptable quality. It's up to you to play if you feel the courage. All explanations are described on Erik Borra's blog, here. The author is working on settings to automatically display the pilots in flight and only them, based on the information sent by the timing system.