« At the moment there is no 2S nano racer in RTF that I can recommend ". It's not me saying it, it's fishpepper. If you don't know him, he is behind several DIY projects on his site fishpepper.de, especially very small components. Chinese manufacturers… and the rest of the planet have been inspired by its developments to create nano racers.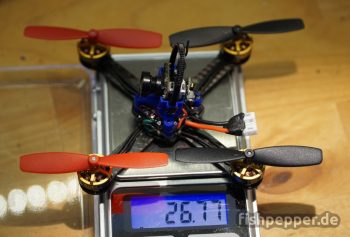 He does not recommend an RTF brushless 2S device at the moment, but he gives an alternative! Obviously, you have to manage yourself for the purchase of parts and assembly...
The shopping list!
fishpepper simplifies the task quite well, with a ready-made shopping list, based on a tinyFISH flight controller (or a clone), 2S ESCs from FuriousFPV (which are based on his work), and a frame made by the Armattan service. The assembly manual is available on the fishpepper site, in English – but everything is easy to understand, and Google Translation can come to the rescue if you lack the vocabulary. Want to get started ? Direction fishpepper website, here !